Eldritch Horror is a game built upon Arkham Horror's framework, so it shouldn't be a surprise to some players that the two games might have a ton of similarities in terms of gameplay, mechanics, and components.
Below, we'll be the Eldritch Horror review to see if it's worth the buy.
Catégories
L'horreur eldritch
Année de publication
2013
Designers
Corey Konieczka
Nikki Valens
Nombre de joueurs
1-8 (le nombre de joueurs suggéré est de 4).
Temps de jeu
120 - 240 min
Âge minimum
14+
Évaluation de la complexité
3,32 sur 5
Expansion
Cities in Ruin
Forsaken Lore
Masques de Nyarlathotep
Les montagnes de la folie
Signes de Carcosa
Étranges vestiges
The Dreamlands
Sous les Pyramides
Game Components
1 plateau de jeu
1 Reference Guide
12 Investigator Sheets
4 Ancient One Sheets
122 Encounter Cards
51 Mythos Cards
16 Mystery Cards
14 Artifact Cards
40 Asset Cards
36 Condition Cards
20 Spell Cards
43 Monster Tokens
1 jeton mystère
36 Clue Tokens
4 Rumor Tokens
1 Omen Token
1 Doom Token
9 Gate Tokens
1 Lead Investigator Token
20 Travel Ticket Tokens
30 Improvement Tokens
20 Eldritch Tokens
78 Health and Sanity Tokens
4 Reference Cards
1 jeton d'expédition actif
4 Dice
Vue d'ensemble
In Eldritch Horror, you and your friends play the role of investigators, traveling from one location to another, fighting monsters, sealing gates, and solving mysteries to save the world. During your travels, you will have the opportunity to upgrade your characters and build your skills. All these you can later use to defeat the Ancient One, should he rise.
Thème
Many would say that the H.P. Lovecraftian theme is a little overused — and to some degree, we can agree.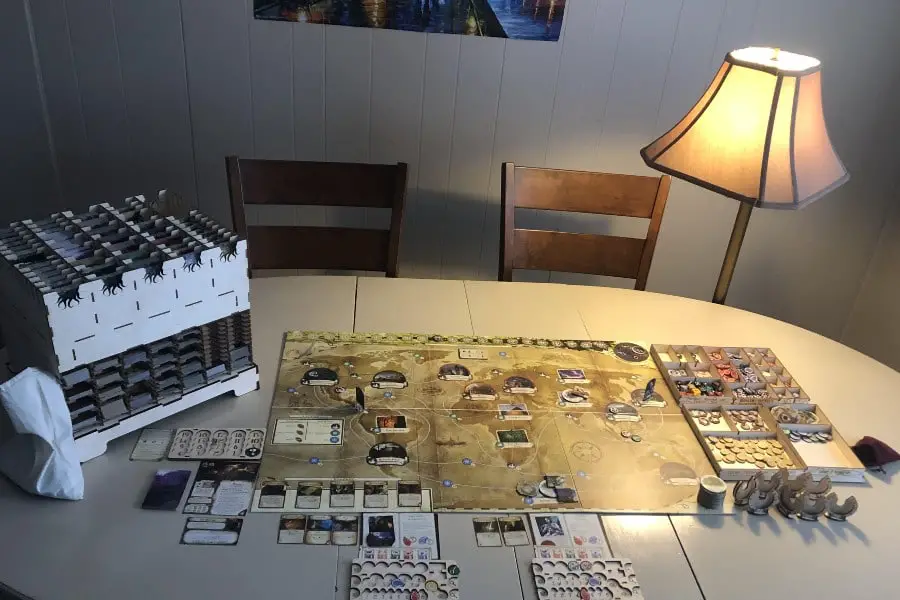 Still, Eldritch Horror really stands out. FFG did their work in creating a storyline that smoothly uncoils throughout the game. The card descriptions, scripts, and characters are also pretty well-written — each investigator holding their unique qualities that add depth and personality to their characters.
Eldritch Horror reels you in with its story, keeping you glued to the game board for hours on end.
Rules
One of the major selling points of Eldritch Horror is its simplicity and fool-proof setup and gameplay. Whether you're an expert or a beginner, you can easily learn and play EH without worrying about getting the process wrong.
Aperçu de l'enquêteur
Each player controls one investigator who possesses different levels of Health, Sanity, Stats (5 stats each), and 2 special abilities (1 passive and 1 usable as an action).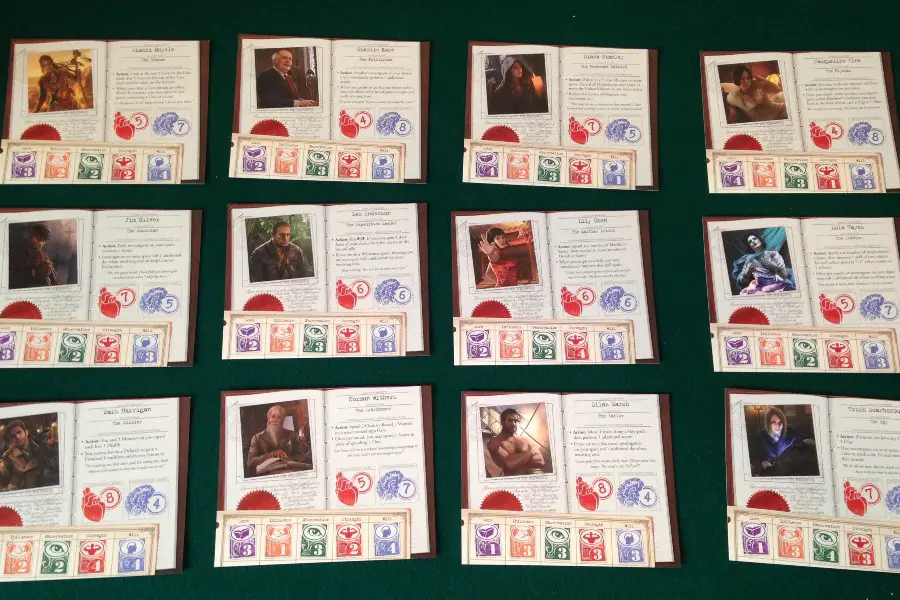 Eldritch Horror comes with 24 investigators out of the box, each with unique skills that you can use to defeat the Ancient One and its minions.
Winning the Game
To win in Eldritch Horror, players have to work together to solve three of the Ancient One's mysteries before he is awakened. In the event that the Ancient One is spawned, players will have to solve the "Final Mystery" written on the back of the Ancient One's card.
Gameplay, complexité et rejouabilité
Eldritch Horror is by far the easiest to get on the table when it comes to games of the same genre. There isn't much of a learning curve in terms of gameplay, and because of the way Fantasy Flight Games (FFG) finetuned its mechanics, Eldritch Horror isn't too complex to understand, either.
Rules can be covered in under 10 minutes tops!
Not to say that it's the perfect tabletop game. There are certainly some aspects of it that we think need improvement.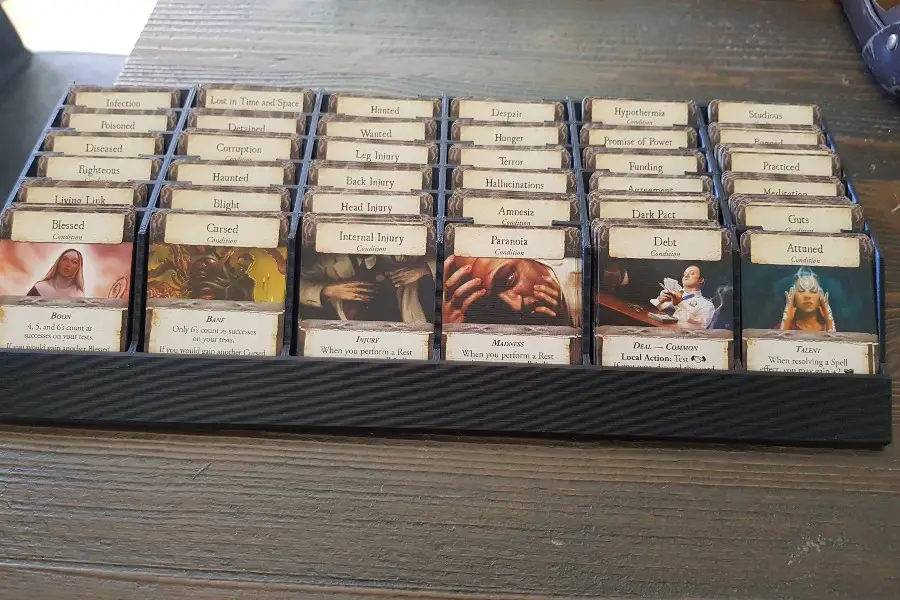 For example, hunting down all those reckoning tokens, especially later in the game, can be a real pain. There's also the case of Condition cards feeling too repetitive.
But besides these minor inconveniences, Eldritch Horror plays pretty smoothly.
One other feature that we particularly like is its new "asset acquisition" system. With this new system, players no longer have to worry about not having enough resources to buy a skill or focus so much on earning money for the matter.
You can simply roll for a debt card.
Debt cards typically have corresponding consequences listed on the back, so proceed with caution.
If you want to increase the replayability value of your games, Eldritch Horror has several expansion packs with a plethora of new characters to choose from. With varying attributes and unique skills, this can certainly make game nights more fun and exciting for everyone!
Here are our top recommendations for Eldritch Horror Expansions. (Insert link to Eldritch Horror Expansions)
Composants
All components are made of high-quality and durable materials that can withstand long, long hours of playing. Although, you can add an extra layer of protection for your cards by getting card sleeves.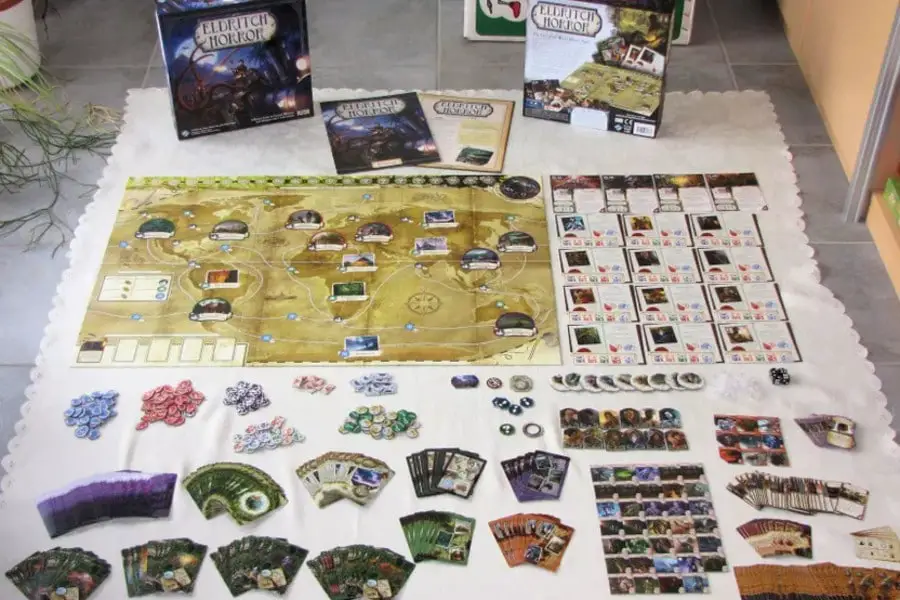 The illustrations are really animated and ominous — just looking at your cards can send a chill down your spine. Plus, the printing is solid and vivid, adding to the overall appeal of the game.
Even if you aren't particularly into art, the designs on this game can turn you into an aficionado with just one game.
Réflexions finales
So, is it worth the buy?
Absolutely.
Despite its shortcomings in terms of mechanics and gameplay, there are more things to gain from buying this board game than there is to lose.
Whether you're a beginner or an expert, you can still have fun playing Eldritch Horror. Despite its simple design, there's enough complexity, so you won't feel bored at any point in the game. You can also add to its replayability value by buying an expansion pack. This will give you more characters, more spells, and more tokens.
Have fun solving mysteries!