If you've always been a fan of true crime and want to enter the mind of a real killer, this murder mystery subscription box is exactly what you need to get your blood pumping.
Hunt a Killer is an immersive crime story that slowly unfolds month to month, in a form of a subscription box. You don't have to be a murder mystery junkie to be able to enjoy this new experience.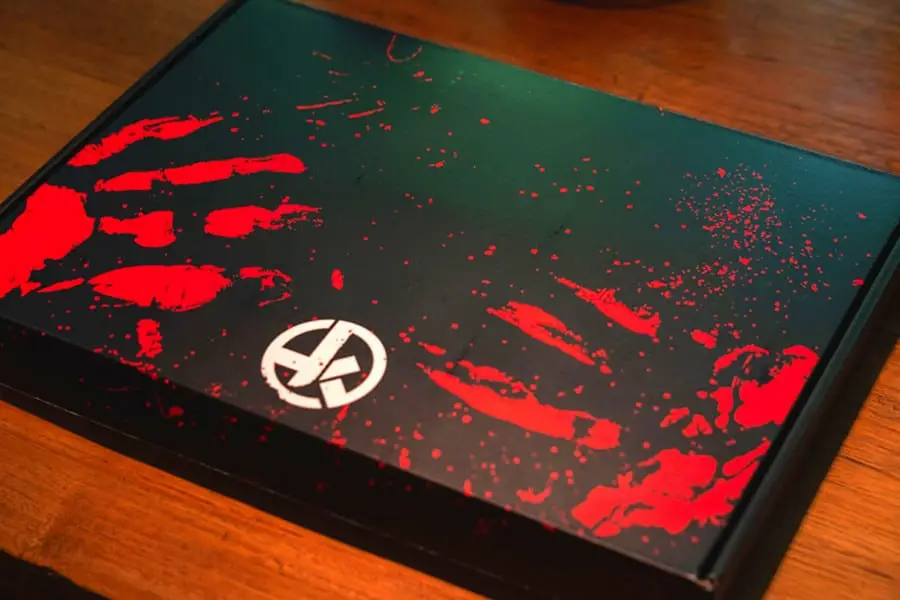 Still, for those who are having second thoughts about subscribing and are wondering whether or not it's worth the cost, this Hunt a Killer review is for you!
Categories
Hunt a Killer
Year Founded
2016
Designers/Founders:
Ryan Hogan and Derrick Smith
Player Count:
1 + (although we don't recommend playing with more than 6 members in a team)
Recommended Age:
14+ years
Play Duration:
90 minutes to 3 hours to complete (depending on your skill level)
Cost:
Starts at $30 per month*
Main Characteristics:

Murder mystery
Subscription box
Deduction game
Detective game

Game Seasons:

Empty Faces: The Mine
Earth Break: Sci-Fi Mystery Box Set (Season 1&2)
Empty Faces The Woods: Paranormal Mystery Box Set
Class of '98: Mystery Killer Box Set
Moon Summit
Starstruck: Detective
Initiation: Serial Killer Puzzle
Hunt a Killer: Blair Witch Season 1
Vindication: Murder Mystery
Curtain Call (Current Season, 2021)
*Prices as of July 2021.
Hunt a Killer: How It's Played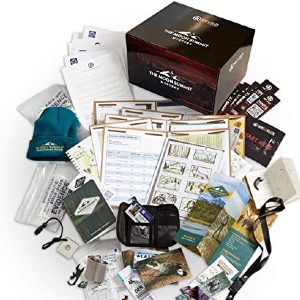 Hunt a Killer Board Game
Popular tabletop game made for 3 to 6 players
Designed by artist Ryan Hogan
Check Price
Over the course of six (6) months, you will be receiving packages full of clues and other items.
All of which you can use to form theories and guesses that will lead you to a climactic and satisfying ending.
Each box you receive will contain an inventory checklist. This list will help you determine if the box you received has everything that your serial killer is trying to send you. Make sure you aren't missing any items or clues.
Once everything is checked and accounted for, it's time to begin your investigation!
Seasons and Episodes
Games are divided into seasons that are six (6) episodes long. Month to month, you'll be receiving items in your mail that will either help you find a murder weapon or dismiss a possible suspect from your investigation.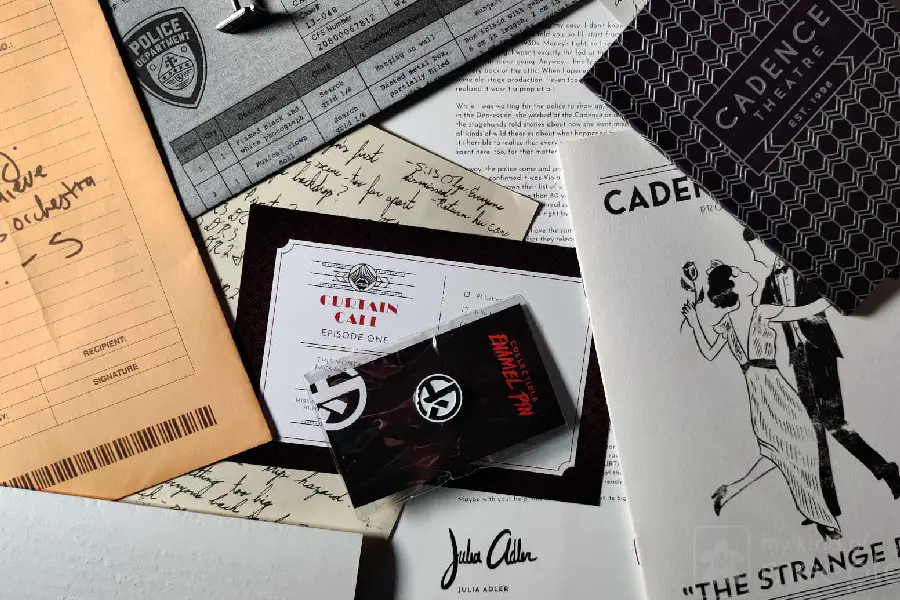 If you subscribe in the middle of a season, you can request for the manufacturers to send you the past episodes in bulk.
Don't have the patience to wait month-to-month for the next box to arrive at your doorstep? You can also request for the manufacturers to send the next episode to you ASAP instead of monthly.
Premiums
If you're looking for something shorter to play but still have the same amount of complexity and excitement, Premiums are a perfect option for you.
These are standalone murder mystery games that you can do in one sitting.
You have a choice of doing it yourself or sharing the experience with a friend or family member.
Some titles to look at.
Following the murder of their lead singer Darryl Fanton, FLUF almost instantly gained fame as one of the most popular cult bands of the 1970s. In this spine-tingling standalone box, you're given a task to solve the mystery of Darryl Fanton's death and finally close loose ends.
The box includes puzzles, clues, and ciphers similar to the traditional subscription boxes. You also get a copy of FLUF's album in the package.
The game will take 6 to 10 hours to complete, so make sure to bring your A-game, because it's going to be a long ride.
Melancholy Killer is actually Hunt a Killer's best-selling standalone pack, and it's back by popular demand!
In this story, Peter Gillespie, a convicted serial killer, mysteriously leaves you all of his belongings after getting murdered in the pen. It's up to you to find out who his murderer was and whether or not he deserved this end.
The gameplay takes about 5 to 7 hours to complete, but you don't have to complete everything in one sitting.
If ghost hunting is something that you're into, the Ghastly Manor should be quite a treat for you to play.
In this game, you take on the role of an expert ghost hunter whose team has been invited to investigate a series of hauntings that have been happening at one of the inns in town. Together with your team, it's your job to vanquish the evil terrorizers and bring calm back to the town.
This game takes roughly around 90 minutes to complete -a much shorter time than the others.
Subscription Types
There are two types of Hunt a Killer subscription boxes: Mystery and Horror.
We can look at the Mystery subscription boxes as the traditional option. It's all analysis and investigations.
You can get it at three different plans:
Monthly, which costs around $30 per month and includes a limited edition Hunt a Killer Seasons Exclusive Notebook.
Season Pass (6 months), which costs around $27.50 per month. It also includes a limited edition Hunt a Killer Seasons Exclusive Notebook, plus a full exclusive Killer Cocktails set which contains: a recipe book, 2 Detective Juice Moscow Mule cups.
Double Season Pass (12 months), which costs around $25 per month. This plan automatically advances you to a brand new storyline once you complete the current season. It also includes a limited edition Hunt a Killer Seasons Exclusive Notebook and the Killer Cocktails set.
You can get more details about their plans, here.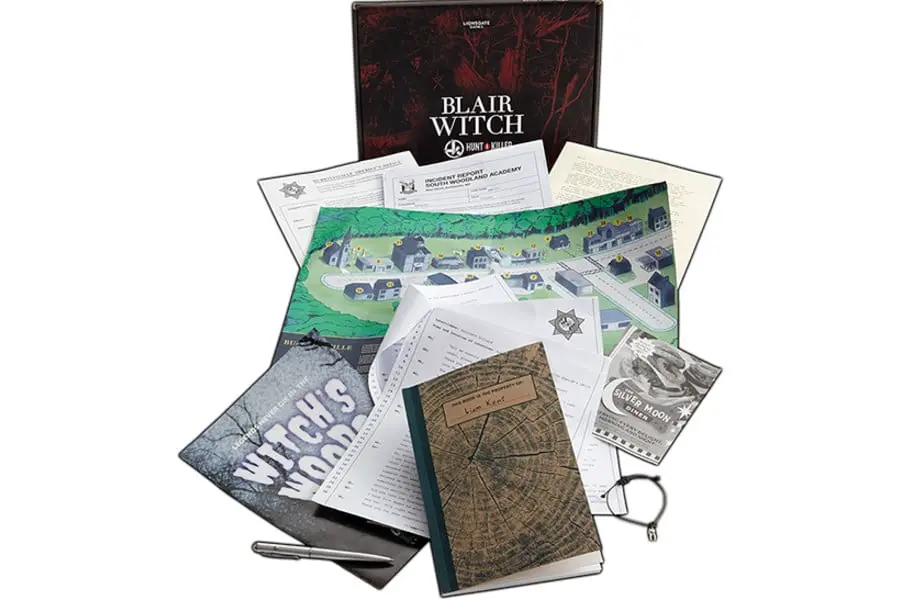 With Horror, there's an added element that makes the whole experience more memorable and exciting: fear.
If you're looking for something that'll get your brain juices flowing and your heart racing, giving Hunt a Killer: Horror should be perfect for you.
Subscription Limits
To keep the quality of their services high, Hunt a Killer implements a limit on their subscriptions, to control the number of people who sign up for their subscription program. This is a feature that we find incredibly appealing and wish more manufacturers would take on.
After all, you want your users to stay satisfied with your products, and the only way to do that is to keep your product quality up!
So, kudos to Hunt a Killer for taking the initiative.
What Do You Get in a Box?
Every box from different seasons is unique, so what you get will depend entirely on that season's theme. It can be anything from police reports, newspaper clippings, documents, letters, and ciphers to physical items like cufflinks or collectible enamel pins.
Curtain Call
Hunt a Killer's current season is Curtain Call, a case that's set around a murder that had been committed in 1934 New York.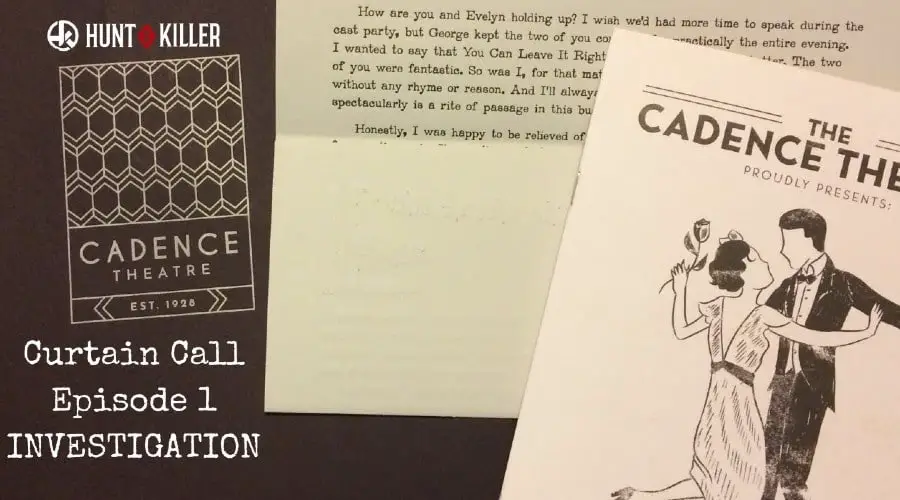 Here's a quick trailer to give you an idea of what to expect:
For Curtain Call, each box will contain the following items:
A random combination of clues and evidence
Correspondence from your contacts
A collectible enamel pin and cufflink
An inventory card
Virtual desktop details
The majority of what you'll get in the box are paper-based clues, so you'll have to be careful with the way you handle them.
The physical evidence, such as the cufflink and the enamel pin, are exceptionally crafted. All from high-quality materials and made with incredible attention to detail.
The designers really did a great job at conjuring the feel and design intricacies of the 1930s.
Pictures are printed with subdued colors as if the years have faded their shades. Photocopied forensic reports have carbon stains making them more believable and real. Even the type-written letters have those unique typewriter indentions on them where the heavy keys hit the paper.
We don't know about you, but these simple details are really what brings a game together and adds to the authenticity of the experience.
Virtual Desktop
In Episode 1 of Curtain Call, you're given a set of log-in details and a web address where you can access the virtual desktop of Hunt a Killer. There, you'll find folders and documents that can help you with solving your case.
Not just that.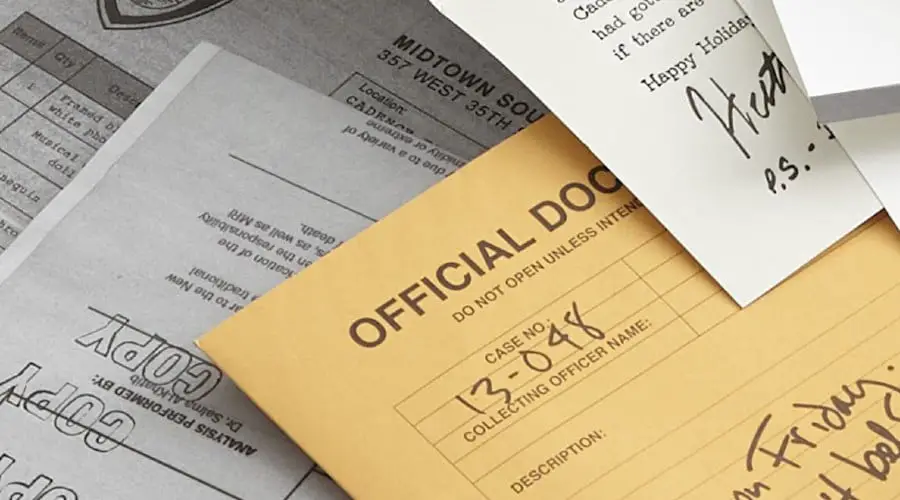 To add more to the authenticity and vibe of the game, Hunt a Killer gives you a cocktail recipe through the virtual desktop. So you can sip on a refreshing drink while you continue to play.
They also give you a playlist full of songs from the 1930s. If you're ever in need of background music while you're working through some clues, just put on one of these tracks and you're good to go!
Besides containing important documents and clues, the virtual desktop is also where you submit your answers to each episode. Simply click the "email" section on your virtual desktop and it will take you to your inbox where you can type down your answer.
Instructions on how to send your answers will be written on your inventory card.
Desktop passwords change every episode, and you can find that in your correspondence with your contact.
Inventory Card
The inventory card does exactly what its name suggests: It keeps inventory of all the things that are included in your subscription box.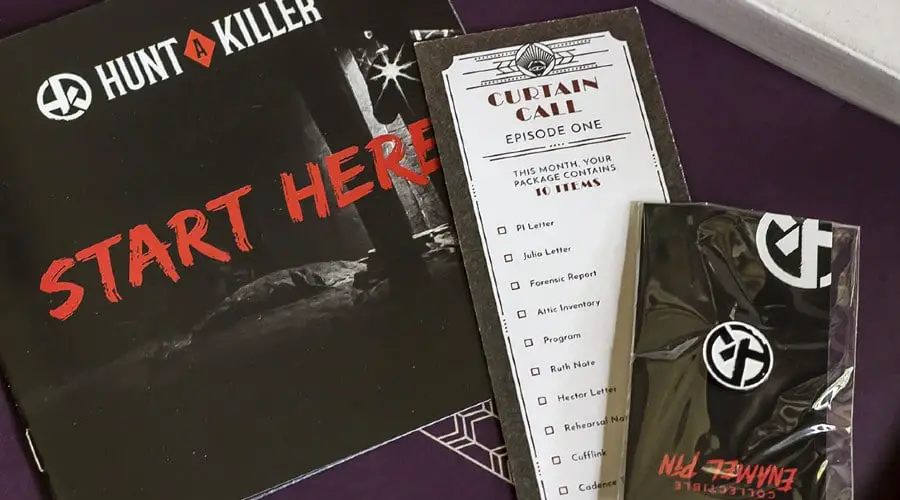 On it, you'll find the following information:
The current episode number
An item checklist
Assignments or things you need to do for this episode
Instructions on how to submit your answer
Additional resources to check out like documents, websites, etc
Suggestions on where to get hints
Online Episode Recaps
If things start to get tough, don't worry — you have other clues that are completely at your disposal.
The online episode recaps give you access to hints and solutions to each episode's ciphers and puzzles. It's designed to avoid any spoilers, so you have complete control over how much or how little information is revealed.
You'll find access details to your online episode recaps at the back of your inventory card.
See the "Start Here" packet for details about Hunt a Killer's online community,
Facebook Groups
, and Forums.
Characters and Storyline
Possibly the best part about Hunt a Killer subscription boxes is the fact that each season is built around the narrative of real-life murders and cases. Designed by true-crime aficionados, you can really feel the stories and characters come to life simply by touching and reading the materials in the box.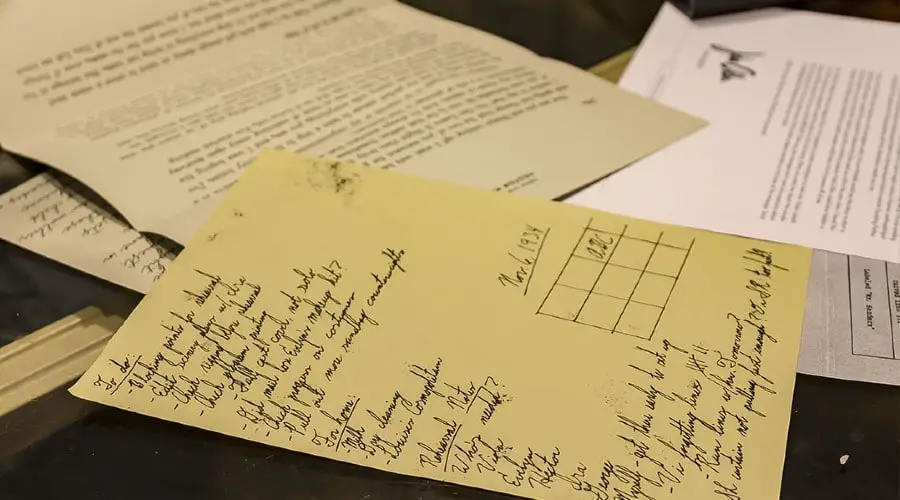 Creating an immersive murder mystery game is a challenge in itself already, and we're surprised that Hunt a Killer has done an exceptionally great job at keeping the story flowing as smoothly as possible.
The characters are well-written and have a depth to them that only the best writers can achieve. You can really see each person's flaws, quirks, and characteristics.
There is a single draw that's worth mentioning about Hunt a Killer, and this is that their stories are all-consuming.
Each episode is jam-packed with dozens of clues, hints, and evidence, that it can feel overwhelming and disorienting sometimes. There's so much material to read. Plus, you'll have to take notes, keep track of timelines, while at the same time deliberate which of your possible suspects is likely the murderer.
Still, the storyline is capturing enough that you won't mind having to read and write so much to solve the case.
The themes are incredible and consisten
The gameplay is immersive
Characters are written very realistically
It keeps you wanting for more
You can only play it once
It's more expensive than buying the traditional board game
Some objectives and problems are too simple to solve
Faulty cancellation process
Do We Recommend Hunt a Killer?
Absolutely!
Hunt a Killer is the type of subscription box program that delivers you EXACTLY what you pay for — possibly even more. Sure, $30 per month is basically the amount we spend on date nights with our significant other. But imagine how much more fun you can have when you play Hunt a Killer?
You can enjoy an exciting and thought-provoking game together. Discuss issues and theories, solve puzzles and ciphers, and dive deep into a story that's nothing like anything you've ever heard of before!
On the flip side, if long tales and detective work aren't your thing, then maybe a different subscription box or some other activity would be more suitable for you.
Hunt a Killer FAQs
Is Hunt a Killer Family-Friendly?
Because of the graphic and rather gruesome nature of its contents, the makers don't recommend it for anyone below the age of 14. Still, if you think your children can handle it, there should be no harm if you let them participate during some parts of the mystery.
When Does Hunt a Killer Release a New Episode?
Hunt a Killer releases a new episode every 22nd of the month. That's if you don't expedite your orders.
Which Season Would Be a Good Starting Point?
Death at the Dive Bar is a pretty solid entry point, especially for users who haven't tried murder mystery games before. The plot is easy to understand and the clues aren't as difficult to decipher compared to the other seasons.
Can You Play Hunt a Killer Over Zoom?
There's really no rule saying that you can't, so sure. Schedule a Zoom meeting with your friends or family members and work on an episode together!
Does Hunt a Killer Use Real-Life Cases?
We do take inspiration from real-life crime stories, but we don't include everything we find in our plot. Our writers are responsible for adding their own unique twists and nuances to our tales.
Does Hunt a Killer Support Any Charities?
The company is passionate about bringing justice to the thousands of murder victims whose cases have gone unsolved. This is why with every Hunt a Killer box that's sold, a portion of it is donated to the Cold Case Foundation (CCF).
The CCF is a non-profit organization that provides resources to law enforcement agencies to help them solve cold cases.
Which Hunt a Killer Season Is the Best?
This all really depends on the type of action you like to have.
In the previous seasons, such as Initiation and Hawthorn Junction, the game is less directed. So you're left to figure out everything on your own. The newer ones like Class of 98 and Moon Summit give you more direction, however, so it's perfect for those who are just getting started with the genre.
Are The Typos Here on Purpose?
Everything that's included in your package is intentional, so even the typos can serve as clues. Which is why you have to pay close attention to everything that seems out of the ordinary.
If there are book references or song titles that seem to jump out at you, look them up. You never know where these might lead you.
Wrap Up
Being a murder mystery aficionado isn't exactly something you can openly talk about. Unless you want to get strange stares from other people, this type of thing is often kept on the down-low.
With Hunt a Killer, you have an entire fanbase that's ready to share the excitement and fun with you! With Facebook Groups and user forums, you can connect and chat with other players who are also eager to share such a unique and new experience with you.
Become a part of a growing community of detectives and investigators. Subscribe to Hunt a Killer, today!