Dice towers are simple machines that can take the tension out of any game and add to it the excitement players need for a more memorable game night.
And while making your own dice tower at home can be a fun activity to do, for people who don't have that much time to spare, buying one online or from a physical gaming store could be the best option for them.
Best Choice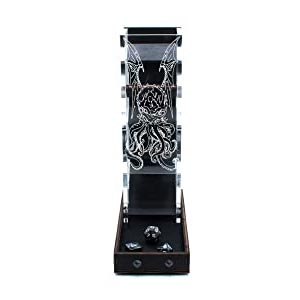 C4Labs Cthulhu Etched 11-inch Tall Dice Tower
Best Dice Tower
Aesthetically pleasing and durable, the Cthulhu Etched 11-inch Dice Tower from C4Labs is a perfect choice for both veteran and beginner players who are looking to make game nights more exciting and fun.
Check Price
Now, there are a variety of dice towers you can buy, and most of them are sold at very competitive prices, but if you want to make the most out of your "investment", you'll want to know what you're looking for.
In this buyer's guide, we'll be going over the different things you need to consider when buying a dice tower, our top 5 favorite dice towers on the market, plus answers to customer FAQs regarding dice towers.
Our Top 5 Best Dice Towers
Reasons for buying a dice tower might be different from buyer to buyer, which is why there's no one-size-fits-all solution. This comparison chart will help you determine which dice tower will best meet your needs.
Not too long ago, dice towers were fun DIY projects built at home. But, with the rise in popularity of board games, dice towers have become one of the biggest must-haves in the board gaming community.
Whether it's D&D with friends or Monopoly with family, there's no doubt that one of these dice towers is guaranteed to meet your needs.
The very first thing that will attract you to this tower is its design. Inspired by the works of H.P Lovecraft, this C4Labs dice tower features an etched image of Cthulhu, an ancient tentacled monster that dwells in the depths of the sea.
The tower itself is made from a combination of thick clear acrylic and high-quality wood, laser-cut to ensure the size and shape of each piece are accurate. It has clear sides that allow players to watch their dice as they fall through the tower. The set also includes a basic landing tray that prevents dice from flying out after each roll.
The tower is compatible with any of C4Labs' standard and mini
dice trays
.
The dimensions are perfect for any size dice and prevent dice from getting stuck in between levels.
However, there are certain downsides to this design like its lack of noise-reducing properties. Noise from falling dice can distract and even annoy some players from the game, which is why having padding or felt lining in dice towers is often preferred by players.
Using metal dice is also discouraged, as it can damage the acrylic walls of your dice tower over time.
Pros and Cons
Made of durable and sturdy materials
Is aesthetically pleasing
Includes a basic tray
Compatible with any C4Labs standard and mini dice trays
Doesn't have proper padding/lining for noise reduction
Can't use metal dice in-game
Final Thoughts
The price, design, and material of this dice tower make it a cool choice for any board gamer looking for a way to spice up their game sessions. The big downside is its lack of noise-reducing properties and its sensitivity to metal dice. However, if you're not someone who regularly uses metal dice and aren't that bothered by the noise, there shouldn't be a problem.
Result
4.8
Perfect choice for any beginner or veteran player looking for an easy way to make game nights more exciting and fun.
Another dice tower with an aesthetically pleasing design, the Forged Dice Co. Grim Bones Grim Reaper Dice Tower features a detailed image of the grim reaper sitting on a throne of skulls. It has LED lights embedded into its dice dispensing skull which cycles through 5 different colors, adding the coolest, ominous flair to your gaming session.
The entire structure is made of durable high-quality polyresin, expertly hand-painted to ensure accurate detail. Its dimensions can accommodate the standard dice size and it has a heavy base that ensures the tower stays steady during each game.
It comes packaged in an attractive Forged Dice Co. box making it the perfect gift for any D&D fan!
Although it would certainly be a cool item to add to your collection, there are a couple of downsides to this design.
Firstly, it doesn't have a built-in landing tray, so dice come flying out of the skull's mouth after every roll. Secondly, the LED lights don't have a lock-in option for colors so the constant light-shifts can become annoying, especially during long games. Thirdly, it doesn't include any inner felt lining to soften the blow of falling dice, so the material may chip away over time.
Pros and Cons
Aesthetically pleasing
Made of high-quality and durable polyresin
Hand-painted and detailed
Includes LED lights that add character to your games
Batteries for LED lights not included
No landing tray for dice
No inner felt lining
Final Thoughts
The Grim Reaper design and the ominous LED lights can easily add more mystery and anticipation to any game. Players need to be a little more careful when using metal dice. However, its durable material ensures that it can last you a long time. If you're willing to spend a couple of extra dollars for novelty, this dice tower is for you.
Result
4.5
This dice tower is perfect for players who lean more toward adventure and RPG games, but it may also work well for others. It's a high-quality and cool-looking dice tower that comes at a very good price.
Compact and made with a simple design, the Hominize Bamboo Dice Tower is the best budget-friendly dice tower in the market. It's made from high-quality bamboo and has 3 inner levels to generate randomized results at every roll. It's easy to set up and includes a wooden tray to keep the D&D dice from flying out. The dice tower can accommodate dice sizes up to D20. Strong magnets help the tower stay up during a game — they also keep the tower in place during storage.
The manufacturers also offer a FULL refund of products in the event that they don't meet customer requirements.
Despite being budget-friendly and perfectly compact, its small size does have a few downsides.
The small size of the tower makes it difficult for dice to fall through as easily, so they often get stuck in between levels, especially when you're using more than 1 dice during a game. Its landing tray is also too small to handle multiple dice, so the tendency is they fly off the tray or they hit each other upon landing and change roll results in the process.
It also has a strong wooden smell that seeps out the first time you open the product, which can be bothersome. But a few swabs of wood oil can fix that issue really quickly.
Pros and Cons
Compact and light, great for portability
Budget-friendly
Kid-friendly
Offers full refund of the product
Dice often get stuck in between levels
The landing tray is too small
Uncomfortable wooden smell
Final Thoughts
The simple and compact design of the Hominize Bamboo Dice Tower makes it easier to store and transport. It's affordable and high-quality, so if you're on a low-budget but want to get started with a simple dice tower, this design is a perfect choice.
Result
4.3
This design is perfect for players who are on a low budget but are looking to get started with a simple dice tower.
The leading contender in the dice tower industry for portability is the Draco Castle Foldable Dice Tray and Dice Tower by Forged Dice Co. It's made of high-quality PU leather and a soft felt for noise reduction. It also has a built-in landing tray, so you won't have to purchase it separately. The price for this design is a little more expensive than the Hominize Bamboo Dice Tower, but is still considerably affordable compared to other dice towers.
Magnets and clasps hold the entire structure together. The tower also features a detailed dragon design on its front gates and the Forged Dice flaming D20 on the back.
The main selling point of this specific design is its foldability. Players can fold the whole dice tower flat, making it easier to store and keep.
The downside to this specific dice tower, however, is that some of its magnets and clasps don't seal well. This makes the dice tower unstable, sending dice flying out from all corners.
Pros and Cons
The best portable dice tower
The best portable dice tower
High-quality felt lining for noise reduction
Sleek dragon design
Magnets and clasps are often too weak to hold everything together
Final Thoughts
The Draco Castle Foldable Dice Tray and Dice Tower's foldability is great for players who travel a lot for games. It has ample felt lining, so you won't have to worry a lot about the noise. The only downside is that the magnets and clasps don't close well, which can send dice flying out in every direction, and that can easily ruin any game.
Result
4.3
The overall design of this dice tower, although not as great as the other items on this list, is still very good compared to other foldable dice towers. If you're someone who goes out a lot for games, this is a great choice.
Tower Castle − Best 3D-Printed Dice Tower
Our fifth and final favorite is Tabletop Games' Tower Castle Dice Tower, 3D Printed from PLA. It's designed to look like a medieval tower and is biodegradable, so you won't have to worry about leaving too big a carbon footprint on society. Similar to the Cthulhu tower, the Tower Castle Dice Tower is see-through, so players can watch as their dice roll down the inner tower steps.
The tower body is wide, so dice rarely get stuck between the stops even during simultaneous rolls. It also has a built-in dice tray, so dice don't come flying out after a roll.
However, because it's 3D printed, there a couple of irregularities from each product. It's also fairly difficult to store as it's neither collapsible nor foldable.
On the bright side, when a product doesn't meet Tabletop Games quality standards, the manufacturers sometimes give away this "bad" product as freebies to buyers. So, there is a chance you could get two cool-looking dice towers for the price of one!
Pros and Cons
Biodegradable
Aesthetically pleasing
Good-quality product for its price
Printing irregularities
Hard to store
Final Thoughts
The medieval tower design is certainly attractive and can instantly add more fun and imagination into any game. Despite not having any lining or padding, it doesn't make that much noise, so you don't have to worry about getting distracted or annoyed during a game. Its only downside is that it's difficult to store and transport due to its lack of foldability/collapsibility.
All in all, it's a great dice tower for its price.
Result
4
This product is awesome for people who are looking for high-quality, affordable, and themed dice towers. Plus, it wouldn't hurt to get two dice towers for the price of one — even if the other one was considered "defective."
Dice Tower Buyer's Guide
All dice towers basically function the same way, so it can be a little tricky to determine which is the best choice. This guide will help you figure out which dice tower will fit your specific needs.
Before buying a dice tower, there are a couple of things you need to consider. These are the size, the weight, the materials, and foldability.
Why Does Size Matter?
The size determines whether or not the dice tower you choose can accommodate the number of dice you'll be using during your gaming sessions. Choose something too little and you won't have enough space for your dice to roll. This often results in dice getting stuck between the dice tower levels.
On the other hand, if you choose something too big, you might have trouble storing and transporting it. Get your measurements right first before you settle for the first dice tower you see online.
Why Does Weight Matter?
Weight is another factor you want to take into consideration when you're looking for a dice tower. You want to choose something that has enough weight to keep it steady and stable, but not too much that it makes it difficult for you to move it around.
Why Does Material Matter?
Some things just don't go well, like acrylic dice towers and metal dice. So, you want to make sure that the materials used for your dice tower are high-quality and compatible with the type of dice you're using. For instance, if you want something that can withstand metal dice blows, a wooden dice tower lined with high-quality felt might be the best choice.
Why Does Foldability Matter?
Dice towers are great additions to any board game, but when they're tough to store and keep, they can instantly become a nuisance to any household. By choosing something foldable, you make it easier for you to move and store your dice tower during a game.
People Also Ask
Here are some of the most common questions customers have about dice towers:
How Tall Should A Dice Tower Be?
It really depends on the dice tower manufacturer. The standard size for a dice tower is often 6 inches to a foot tall. However, some are made a little taller or shorter than that. If it's your first time buying a dice tower, we suggest you buy a 6-inch tall dice tower and nothing less than that, to make sure that your dice tower has enough space to deflect dice and can ensure truly random results after every roll.
Are Dice Towers Really Necessary? Why Or Why Not?
That depends. If you're playing with a large group, then having a dice tower is more convenient, to ensure each players' roll is random and fair. A dice tower can also help you contain dice and minimize the chances of them falling off the table. (Often, that could derail a whole game.) The unique visual flavor it can add to your game is also a huge plus, in our opinion. But, if you're fine with rolling your dice on the table and are sure the group you're playing with won't cheat, then playing without a dice tower is completely okay.
Should I Get A Dice Tower Or A Dice Cup?
Either one can be a great choice, depending on your needs. If you want something simple but can still give you random dice roll results, then a dice cup would be perfect for your situation. However, if you're looking for something that can add character/personality to your game while still giving you random dice roll results, then a dice tower might be what you need.
Metal Dice Vs Plastic Dice — Which Should I Use?
One thing about metal dice is that it's heavier than the typical plastic dice, so you have less rolling power when you use them in-game. They can also leave nasty scratches on surfaces like tables, landing trays, and game boards.
What Materials Withstand Metal Dice Blows Best?
As we mentioned before, due to the shape and weight of metal dice, they tend to leave nasty scratches on surfaces. All dice towers are constructed using fairly durable materials, therefore, the best way to prevent your metal dice from damaging your dice towers is by adding a protective lining/padding inside your dice towers. Choose high-quality felt or a thin foam pad for this.
Conclusion
Deciding which dice tower to buy can be ridiculously complicated, especially when you have such a wide variety of choices to pick from. The best way to make the right choice is to know exactly what you're looking for in a dice tower.
Consider its size, weight, material, and foldability, before thinking about anything else like the price and the design. (It might look great but miss to meet your needs entirely.)
Finally, don't get too caught up in the public's opinion. What's great for them may not necessarily be great for you. Stick to what you find comfortable and useful.