Dice towers are simple machines that can take the tension out of any game and add to it the excitement players need for a more memorable game night.
And while making your own dice tower at home can be a fun activity to do, for people who don't have that much time to spare, buying one online or from a physical gaming store could be the best option for them.
Best Choice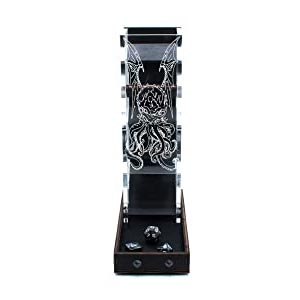 C4Labs Cthulhu Etched 11-inch Tall Dice Tower
Best Dice Tower
Aesthetically pleasing and durable, the Cthulhu Etched 11-inch Dice Tower from C4Labs is a perfect choice for both veteran and beginner players who are looking to make game nights more exciting and fun.
Check Price
Now, there are a variety of dice towers you can buy, and most of them are sold at very competitive prices, but if you want to make the most out of your "investment", you'll want to know what you're looking for.
In this buyer's guide, we'll be going over the different things you need to consider when buying a dice tower, our top 5 favorite dice towers on the market, plus answers to customer FAQs regarding dice towers.