This post will compare the two board games, Pandemic and Pandemic Legacy. It will discuss their mechanics, strategies, components, pros, and cons. The goal is to help you decide which game would be best for your next family game night or adult party.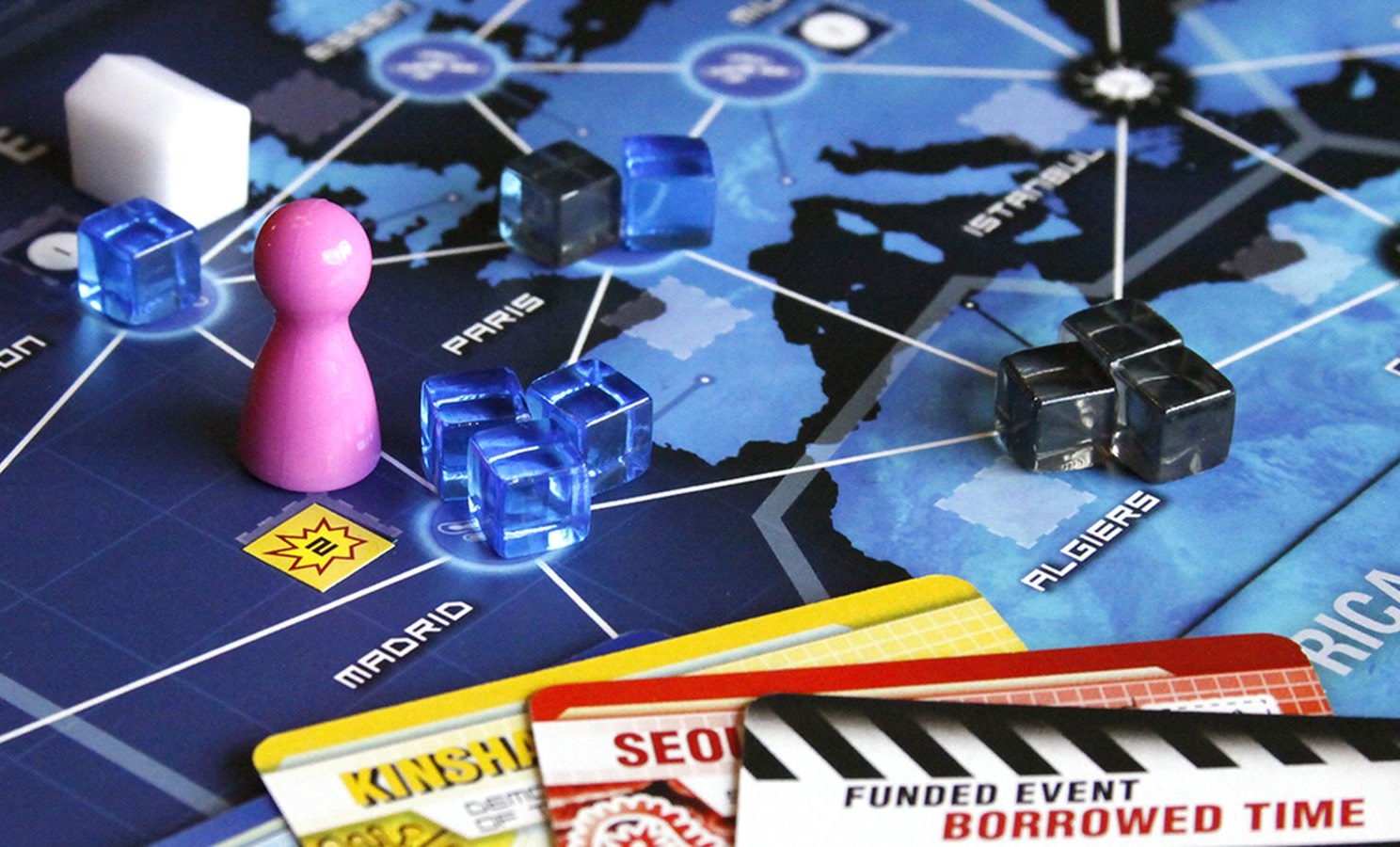 Pandemic Vs Pandemic Legacy Comparison
Categories
Pandemic
Pandemic Legacy
Year Published
2017
2015
Designers
Matt Leacock
Matt Leacock and Rob Daviau
Number of Players
2-4 (Suggested number of players is 4)
2-4 (Suggested number of players is 4.)
Playing Time
45 min
60 min
Minimum Age
13+
13+
Complexity Rating
4.8 of 5
4.8 of 5
In-Game Mechanisms
Cooperative Game

Dice Rolling

Strategy game

Adventure Game

Role-Playing

Hand Management

Point to Point Movement

Cooperative Game

Dice Rolling

Strategy game

Adventure Game

Role-Playing

Hand Management

Point to Point Movement

Expansion
On the Brink

In the Lab

State of Emergency

Scenarios

Season 1

Season 2

Season 0
Pandemic
Pandemic is a cooperative game where each player takes on the role of an epidemiologist working together to stop four diseases from spreading around the world. The players work together to research cures for these diseases; however, there are several factors that make this difficult.
First, outbreaks occur throughout the game and cause infections (represented by cubes) which spread the diseases. The infection rate increases as time goes on and more outbreaks occur, making research harder to accomplish. Second, there are several ways for a player to lose in Pandemic: if too many outbreaks happen at once or if all disease cubes run out before being cured by players, among other things.
Lastly, when a player loses one game they are usually interested in playing again. This game is easy to learn and has many expansions available, allowing you to play with different characters or scenarios every time you play the game.
Pandemic can be played by two to four players aged eight years old and up. It takes about an hour to complete one playthrough (depending on the difficulty level), so it is great for family game night or adult parties. The play can be cooperative, but Pandemic also has hidden objectives that players must complete in addition to curing diseases. These hidden objectives help keep the game interesting since each player gets something different from completing them

Pandemic Legacy
Pandemic Legacy is a cooperative game like Pandemic, but it has several key differences. First, there is only one winner (or winning team) in Pandemic Legacy and the players' characters level up throughout the course of playing; this allows them to get better skills as they play more games. The board also changes between playthroughs depending on what happens during each game.
For example, if the players lose a battle in one playthrough they might not be able to return to that city on their next playthrough; or, an old disease might become more dangerous as time goes by and players must research it again for double the difficulty.
Pandemic Legacy also has hidden objectives like Pandemic but the players must complete these objectives in order. If they fail to complete an objective, it does not carry over like the one from Pandemic. These hidden objectives add another level of difficulty and strategy that players can use when deciding how to play each turn; for example, if a city has been hit with more than three outbreaks then it is probably best to skip it the next time around.
The game takes about one hour per playthrough (again, depending on difficulty) and is great for family game night or adult parties. As stated above, you can play Pandemic Legacy with two to four players aged eight years old and up, but there are also expansion boards that take things further and allow you to play with five-to-eight players. If the players lose one game (or season) then they must start all over again; however, there are also rules for playing shorter seasons that take less time.
The Red and Blue version of Pandemic Legacy is slightly different from the original game. There are two winning teams that have to work together, but each team has its own agenda for winning the game rather than just curing diseases. The board also changes between seasons depending on what happens during those seasons; however, it does not change as drastically as in the original game.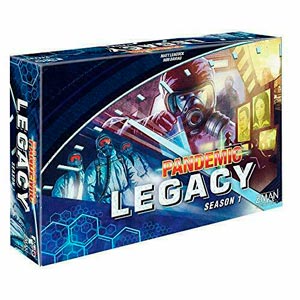 Pandemic Legacy
2 to 4 players
60 minute playing time
Check Price
Mechanics and Rules
Pandemic and Pandemic Legacy have the same basic mechanics. Both games are cooperative, require a strategy to win, and take about an hour per playthrough (again, depending on difficulty level).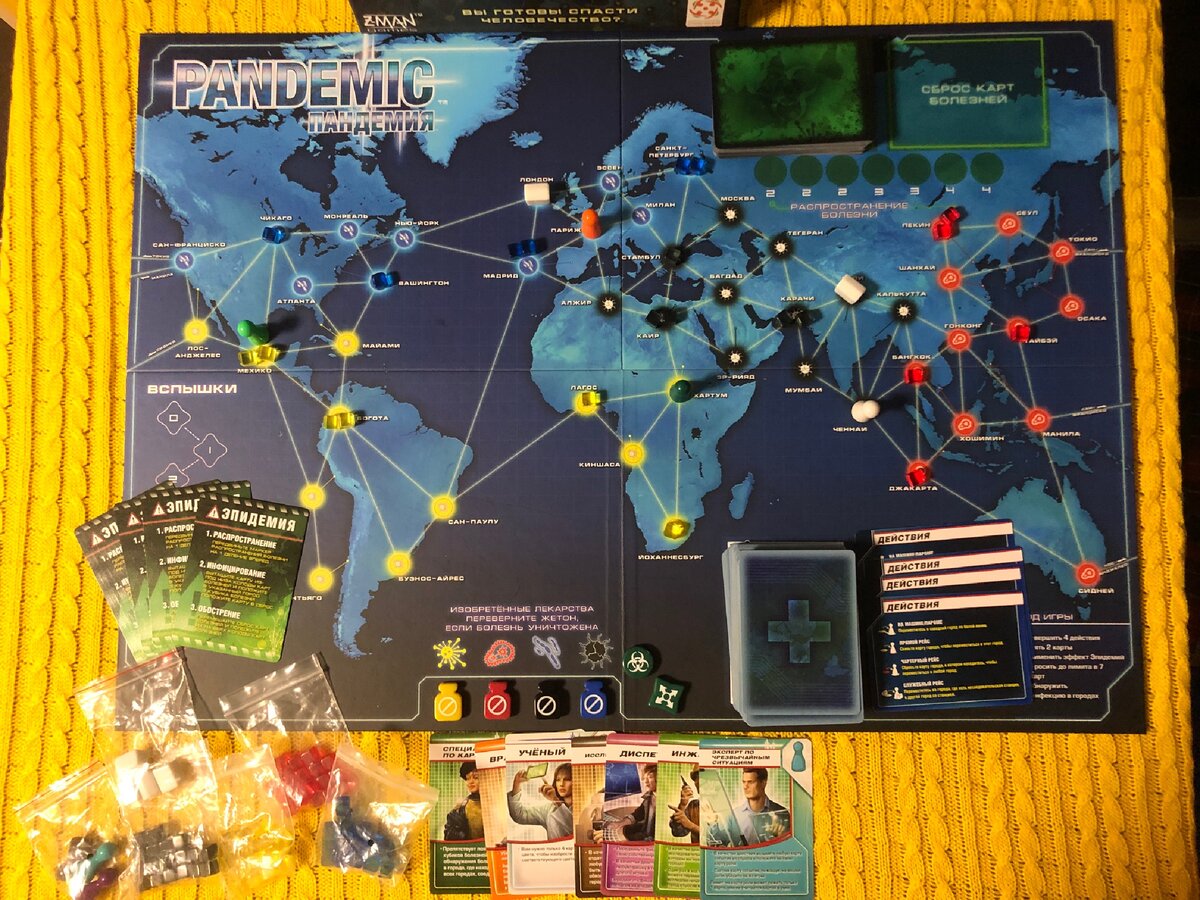 The only difference between these two games is that Pandemics' hidden objectives carry over from game to game while Pandemic Legacies do not; this is the only difference between the two games.
Pandemic Legacy is much more difficult to win than Pandemic due to its strict hidden objectives and constant changes in gameplay, but it also has a better storyline because of these elements. In order for players to win one playthrough, they must play through all 12 months (or seasons) without losing too many times. If they lose three times then the players must start all over again from scratch as if it were a new game.
Phases
Pandemic follows a three-phase structure that's played from top to bottom. These phases are:
Infection Phase – The players draw three event cards and one city card, then they must pick which cities will be infected with disease cubes.
Action Phase – Players take turns performing actions until all four of their action points have been used up. Actions include: traveling between cities, treating diseases in certain cities (by discarding the right number of cards), collecting research stations, building a research station in another city (by discarding four matching color disease cards), sharing information with other players (to help cure diseases or find the Cure card)
Clean-Up Phase – Players check to make sure that all cubes are placed on the board correctly. If any player has more than seven cubes in a city then they must remove some of them; if any player has more than three cards in their hand, then they must discard down to seven.
Pandemic Legacy uses the same structure as Pandemic but it changes things up by adding new elements over time. For instance, players might need to complete several objectives throughout each game instead of just one; or, they might need to make a decision between two options at the end of each turn (instead of only having one option).
Winning and Losing
In Pandemic, players win by curing four diseases and losing three games. In order to cure a disease, they must discard the right number of cards in that color (they get one card for each research station he or she has on the board).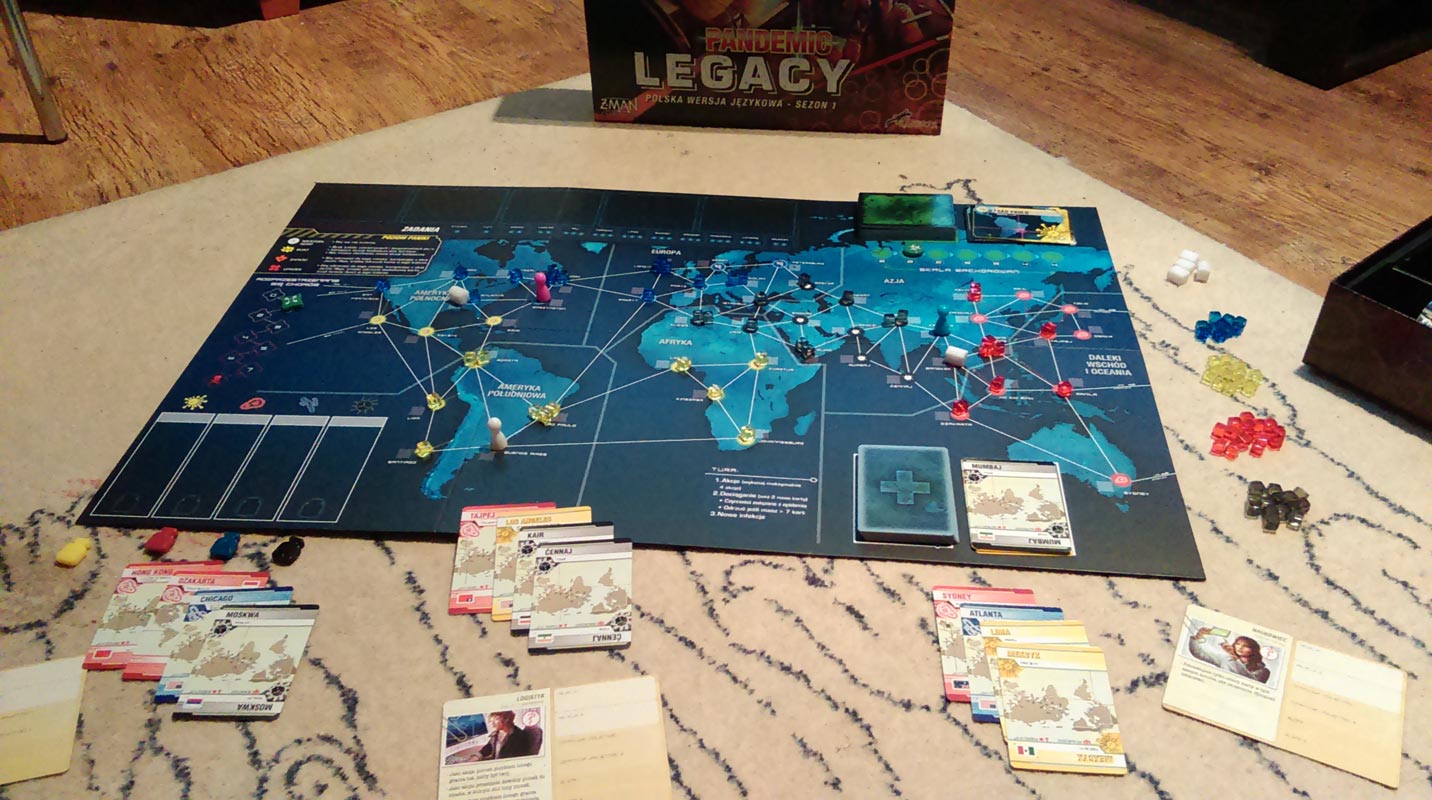 If at least one player can find all six Cure cards before running out of turns then the players win the game.
In Pandemic Legacy, players win by completing one of four different endings: they can cure all diseases, find a vaccine for all four viruses, discover the cause of the mysterious disease (which is already on board at the beginning), or eradicate an entire virus from every city in the world. Completing any ending requires that players make several decisions throughout the game, and they must also complete all of their hidden objectives.
Gameplay, Complexity, and Replayability
Pandemic is much more simple than Pandemic Legacy because the only thing that changes in one playthrough is which cities are infected with disease cubes. Players also know exactly what they need to do (aside from winning) throughout each game, so it's easy for them to complete their hidden objectives and win the game.
However, Pandemic has a lower level of complexity because it only has one game mode. Players don't have to keep track of several hidden objectives, and they are able to complete everything in one playthrough instead of playing through 12 months (or seasons) before winning the game.
Components and Setup
Pandemic has several components that are needed in order to play the game including the board, player pieces (in five different colors), event cards, infection cards, cure tokens, research station tokens, pawns for tracking epidemics on the board, disease cubes of four different colors representing each virus.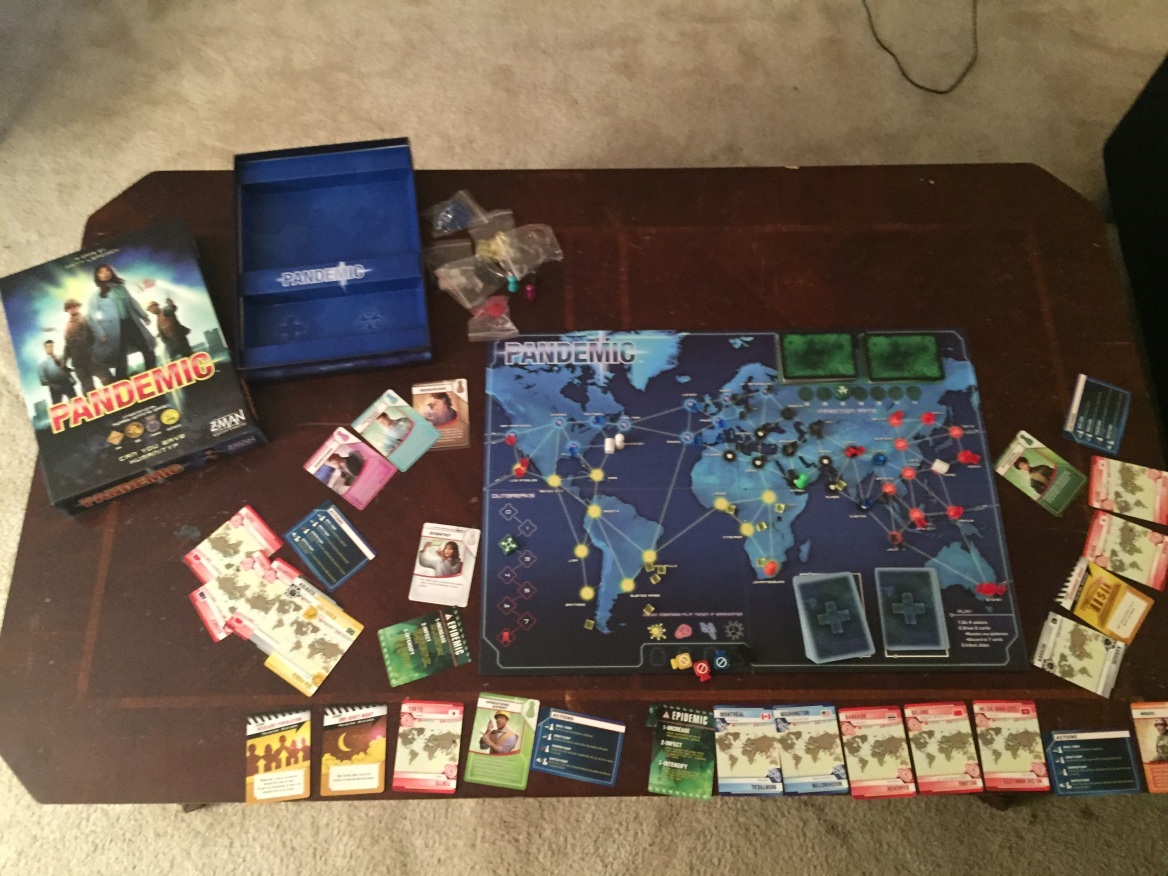 The setup is also very simple because players only need to place the board in the middle of them and then have each player pick a color. They also draw three infection cards, take four cubes of their color, grab one research station token for every city he or she is connected with (up to two), and they're ready to start playing!
Pandemic Legacy has many more components that are needed to play the game, including stickers (which players need to place on certain cards), a Legacy deck of 24 chapters that are each split into several days, two different player boards with a spot for their pawns and hidden objectives plus three slots where they can put secret information underneath the board. The setup is also much more complex because it takes about 30 minutes to complete.
Pandemic

Rulebook
1
Role cards and pawns
6
City cards
48
Epidemic cards
6
Event cards
5
Reference cards
4
Infection cards
48
Disease cubes
96
Cure markers
4
Infection rate marker
1
Outbreaks marker
1
Research stations
6
Pandemic Legacy
Rulebook
1
Role cards
5
Pawns
4
Player cards
61
Reference cards
4
Infection cards
48
Legacy cards
62
Civilian cards
4
Dossiers and 1 Sticker sheet
5
Cure markers
4
Track markers
2
Reminder token
1
Disease cubes
96
Setup
Pandemic is much more difficult than Pandemic Legacy because it's harder to win while playing through multiple playthroughs. For instance, one game could require players to cure all four diseases in order to win, but the next time around they might only need to find three cures before losing (and that's just two examples).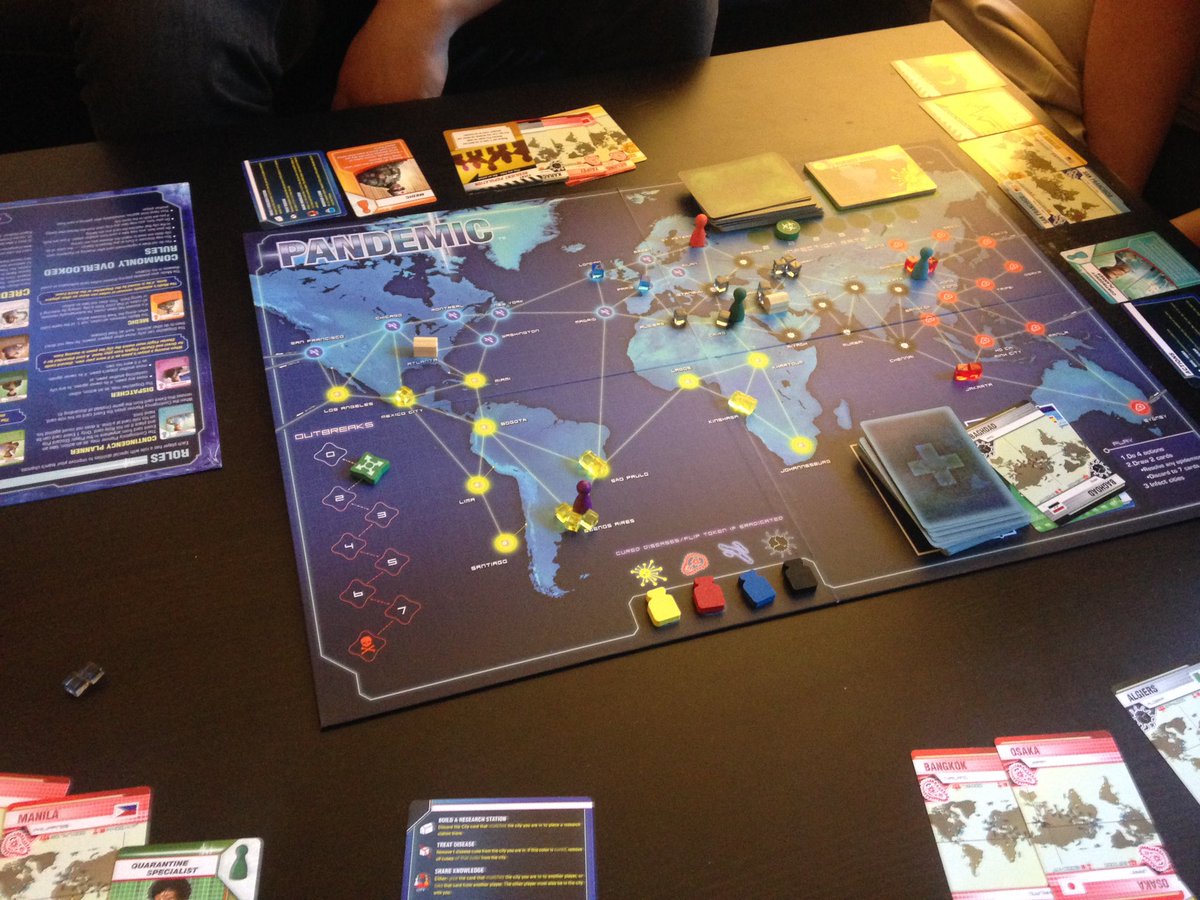 However, Pandemic is much easier to set up and learn how to play because it only has one game mode. The setup time for each playthrough takes about 15-20 minutes, while the players should be ready to play in less than 30 seconds!
The Verdict
Pandemic Legacy is better for players who want to play multiple playthroughs in order to win the game. Although it's more complex than Pandemic with a setup time of 30 minutes needed before playing, it includes several hidden objectives that change from one playthrough to the next. Plus, each new chapter includes several days that are split into different sections so players can keep track of how long it takes to complete certain objectives.
In conclusion, Pandemic is better for casual gamers who just want to play through one game mode and see if they can win or lose while Pandemic Legacy is better for more advanced board game players who enjoy playing multiple playthroughs to win the game.